I've been really busy for the past few weeks, and as a result, this poor blog of mine has been pretty neglected. But when I'm too busy to actually spend time to sit down and write a decently readable blog post, I do what everyone else seems to be doing at the moment - just drop by Facebook for a moment to rant about how busy and stressed we are.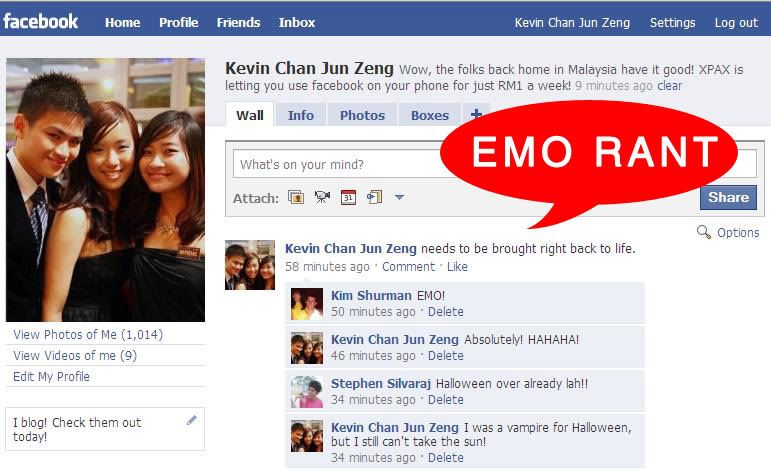 Emo, emo rant.
Yeah, Facebook is simple and fast to use, and it provides the quick, instant gratification that our generation craves for. It truly is the opiate of our times. But this is the catch - you have to be connected to the internet to use it. For those who don't have a mobile internet plan like me, that means that my Facebook addiction is only limited to when I have access to the internet.
But for those lucky folks back at home in Malaysia with a Xpax data plan, I just read today that Xpax just launched this service offering Facebook access through SMS and the service only costs RM1 a week to access! For those of us studying down here in Singapore, it's just a microscopic sum of less than $0.50 SGD to use Facebook whereever you are a week! That's just crazy!
I'm going to be blogging about the new service by Xpax through the week, so stay tuned and just to let you guys know, check out:
http://channelx.com.my/mdp/promo_rm1_getfb.jsp
for more information! (: