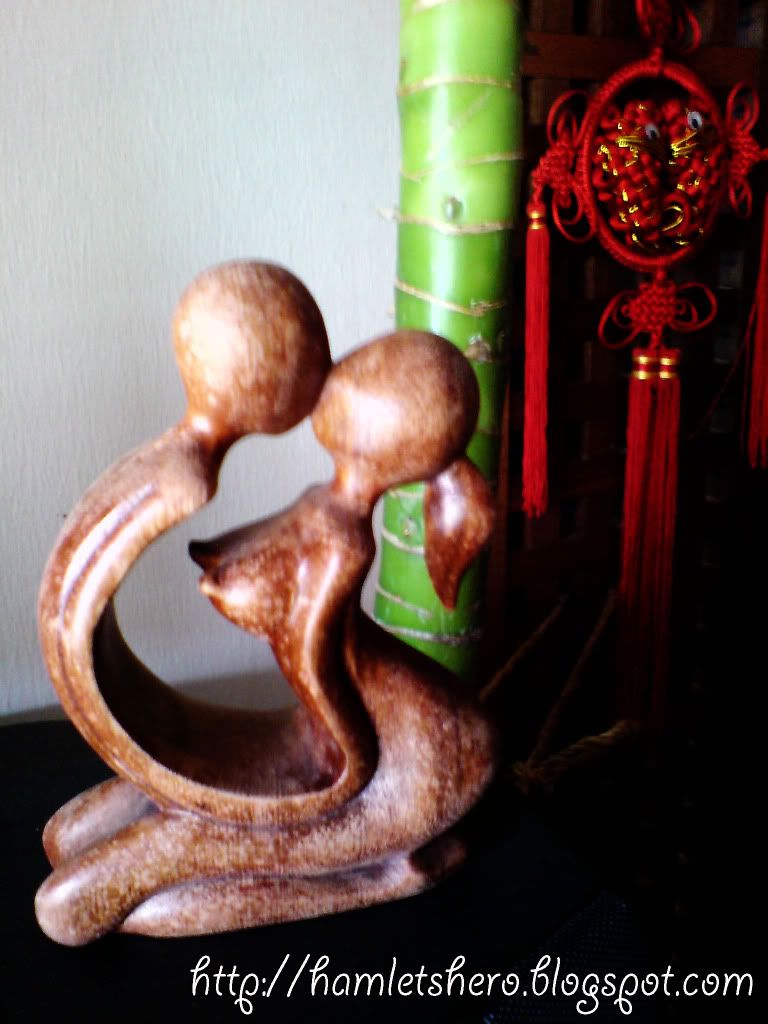 I once held the view that one should not lose their virginity until marriage. I thought it made sense. Wouldn't it be the ultimate gift to preserve one's virginity for the person that we finally end up tying the knot with? Guess that the younger, more naive me didn't realise that keeping it would only strengthen the hold the women I was romantically involved with on my life, as it is a fact that most (attractive) women, use sex as a weapon against men.

I'm not trying to run women down, I still love women and do consider myself to be quite a feminist, but women have been using sex as leverage in their dealings with men since time immemorial (yes I was there since the dawn of time, Mr. Leong). I'm absolutely positive that Wilma, the cavewoman from the Flintstones, did on many occasions withhold doing the nasty with her husband Fred, until Fred agreed to clean up his end of the cave. It has happened in the past all the way till the present and I don't see this stopping anytime soon.

So how does this all add up? Lets look at several hypothetical teenage heterosexual relationships between Dick and Jane.

Scenario 1:
Dick is a virgin and he believes purely in reserving sex for marriage.

So Dick has zero experience in bed till the day he recites his vows at the altar. Assuming that Jane is the ideal faithful woman (which is a rare breed in this day and age) and they do eventually get married, all this while 'saving' their virginity for each other, can we really say that they made a wise, rational decision in choosing to get married to each other while having all that pent up lust and hormones in them? I dare say that the foundation of a marriage is much more irrational when one of the main reasons of the marriage is just so that they can finally bang each other without guilt.

Is saving their virginity for so long (which in a long term relationship takes hell a lot of effort) worthwhile or even rational to begin with? I don't think so. I'm a romantic who still believes in true love that transcends the lusts of the body (I know I'm a hopeless romantic, SO DEAL WITH IT!) and I guess we can't say that we can be certain if there's true love in a relationship if getting pussy is still in the picture. Yes, the sad fact is that men and women alike make irrational choices when it comes to sex. Marriage to me is something really, really important and I think that keeping getting tail out of the equation is a good idea.

Scenario 2:
Dick is a virgin and believes on saving sex for the one (whatever that means). Jane however withholds sex from Dick, keeping him firmly under her control.

I know that this is totally unromantic, but sex can be (is) a pretty strong control mechanism to keep Dick in check. The worst thing is that most girls think that this kind of behaviour is perfectly acceptable behaviour, the same way many girls regard kisses and small sexual favours as "treats" that she may let her boyfriend enjoy, should he be compliant with her wants. This is clearly an example in the classical economics of demand and supply. Dick wants sex, and since Dick subscribes to the belief that he should save it for the one (I used to think this, but I never knew what the one meant for me. In this scenario though, Jane is the one.) Jane has a monopoly on the one commodity that Dick wants so badly - her pussy. As Jane monopolizes that one commodity that Dick wants so badly, she is in the position to demand the world from Dick, since Dick's beliefs limit him from fulfilling his needs anywhere else. This results in Dick becoming the poor henpecked boyfriend. This is evil sexual blackmail I tell you, downright EVIL blackmail, but it's socially acceptable! What are we good honest men to do about this? The answer is simple, get rid of our limiting beliefs that over-empower the women in our lives. Why should we give women the right to withold sex from us by believing we should save sex for "the one"?

Conclusion:
The more I think about it, the more it seems that all these beliefs about saving sex for marriage and saving sex for the one seem to have been an elaborate conspiracy formed by women in times long ago to keep many generations of men firmly under their grasp. But are these beliefs rational? The more I think about it, the more I think no.

Don't get me wrong, I still don't think that people should have sex if they are not mature enough to understand it's physical and emotional consequences. Sex is still a very powerful and often emotional act, and we should all be sure that we are mature enough to know how to use proper protection and emotional restraint before we begin indulging in it. But my point is this - sex isn't everything about a relationship and knowing that you can have it somewhere else (built on the experience of having it somewhere else) empowers men to walk out of disastrous relationships before committing to anything serious. Let's not be naive and believe that our women are angels and would never use sex as a weapon against men, they're human too and using sex as a weapon is something deeply ingrained in the fabric of society in this day and age. And besides, practice always makes perfect aye?

I strongly believe that sex is something special that happens between two people, not an economic transaction. It may seem counter-intuitive, but it seems to me that the best way to really have romance in your life is to finally realise that sex with that someone you love is always special, no matter how many other people you've had it before that special someone came along.

P.S.: As always, I would love to hear what you guys think. So, to do or not to do? What do YOU think?