"Why the weird title? Nuffnangers going wild? What's happening to this world?

Patience, my tribesmen (and women), and gather round the tribal fireplace. It's time for a story.


Once upon a time, not so far away, I came home tired from work.
It was yet another backbreaking day, but I managed to bring in a fresh gazelle from the hunt. I was pleased.
After a meaty, satisfying meal of fresh gazelle, I logged onto the internet to see what Nuffnang has in store for me.
And this was what I saw. *ROAR*
Behold! Nuffnang had just the thing to get me all hungry again! A fresh juicy zebra! And there's news of a Wild 'Live' Blogging Party? And all I had to do was blog about this?
Thoughts of the last Nuffnang Party at the Borneo Baruk Club rushed back into my memory.
Yeah, that was one heck of a wild night, and they had a sexy nurse too.
I like. (:
And I definitely wouldn't want to miss this upcoming party. (Read ALL about it and how to get invites for it
here
.)
And so, this wild one here put his paws quick to work to come up with a post. A WILD post, so hopefully Nuffnang would be so kind to grant this Glitterati member invites to the upcoming party, and he will be really grateful.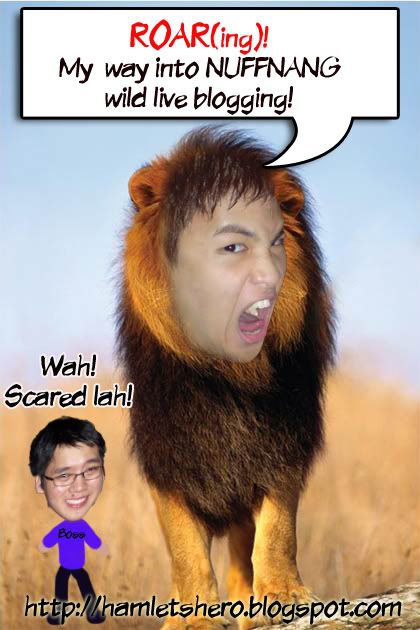 I'll try not to eat Boss Stewie! Promise!


*I only said that I'll try okay? Don't blame me if I can't help myself. (:



And by attending this event, hopefully the wild one will get to meet his
Project Trafford
teammates too. But that, my friends, is the subject of a whole different story.
Till then, I will be sharpening my claws for the coming wild party. See you there!
... but if you don't, Boss Stewie beware! I won't be a happy puppy!