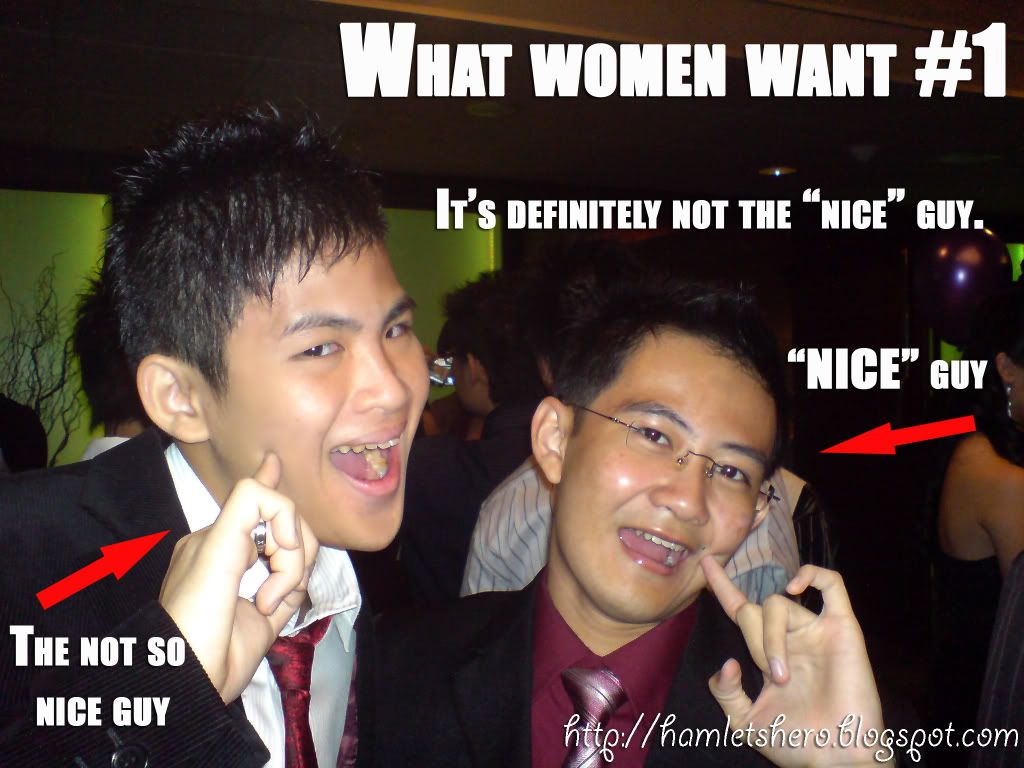 When I was back in secondary school, this was how I thought it worked.

Guy fancies girl, so guy should be a the nice guy that girls keep talking about - the guy who buys them big fluffy bears with all their pocket money; the guy that is absolutely loyal to her and looks at no other girls. Girl should fall in love with such a nice guy...... right? But unfortunately (for me at least), it didn't seem to be working this way, somehow.

When I came back to school to teach earlier this year, I saw that exact same thing happening ALL OVER AGAIN. It was like reliving a nightmare, all over again. I knew I had to do something about it.

So for today, class, we'll look at why being the 'nice guy' wouldn't be so nice for your love life.

Lets see what the stereotypical 'nice guy' does. He's too willing to part with his money for the girl that he fancies, gives in to all her wants and whims, and is willing to stop looking at all the other girls around just because there happens to be one girl who talks to him a teeny bit more than the others.

Now guys, I know that we have been all brought up and told that we have to be gentlemen, and we have to be nice to girls because that's what they want. But we forget a very important fact - most of the time, you're not supposed to believe what women tell you anyway.
Hamlet's Hero lesson #1: Women don't mean what they say most of the time.
Yes, for all you naive guys (and girls who like girls) out there, females are notorious for not giving away the truth easily. She says shes happy with the gifts you give her, but if what she says is not consistent with her body language and you just got to call her bluff. She says that shes happy with you going out with the guys on soccer night but we all know that shes going to sulk big time when we come back, right? Cause if you don't you need the above line hammered into your thick skull.
Yes, the thing is that although women keep going on and on about how they want guys to be 'nice' and all, spending all their money on gifts for them and being the absolute center of a man's life, they're not telling you the whole truth.
The truth is that all the girls you know probably forgot to tell you one thing when you asked them what they wanted in a man they liked - the sexual tension and attraction that sends them swooning. Yes, that's what they really want, but I like to think that girls intentionally left that bit out so that they get free dinner dates every now and then from a average Joe with zero knowledge about women. Who wouldn't want to be pampered ya? But that's just not the way to play the game.
Think about it, would any of the things that a typical 'nice guy' does magically make a woman desire you? Paying for a girl's dinner and buying her gifts wouldn't make her magically fall in love with you if that spark isn't there, and if you overdo it, quite the opposite happens - it makes the guy look like a desperate stalker. Don't you just have to agree with this, girls?
The thing that most guys fail to see is that if you manage to cause the girl in question to become attracted to you, you won't have to burn your pockets or cut out all your other options to get the girl you're after because she'll fall for you anyway, because you're one hell of an attractive person, not because you think you suck so much that you have to PAY for every single thing so that the POOR, POOR girl will spend an evening with you. And just think about it, that sorta behavior would just make the girl feel like social escort every time she goes out with you, a really badly paid one. And that's just not sexy behavior that's gonna cause a girl to become attracted to you (unless shes the one that never EVER got attention until you came along, but those usually aren't my type. If they're yours, stop reading and continue what you're doing cause you'll be staying well outta my way anyway).
You know whats worse than guys who start off on the wrong foot by trying to be the 'nice' guy? Guys thinking that they're being the most charming guy in the world by trying to be 'super' nice. Yes, I know it's a
kiasu
world we live in but it just doesn't work that way! Just think about it, if niceness was what causes people to become attracted to another person, Mother Teresa would like be one of the most attractive babes on the planet (but yeah guess she can be in spirit lah...)! It just doesn't work that way, get it?
So that's lesson number 2.
Hamlet's Hero lesson #2: Being 'nice' does not magically make girls swoon and fall in love with you.

Damn, if I only figured this out in secondary school I wouldn't have wasted so much time...... and so much opportunity. But guess it was a lesson well learnt.
Well, don't sue me for plagarism, but for a girl's point of view, this is how Le Raine from http://leraine.blogspot.com put it:
The nice guy usually ends up eagerly offering favours to the girl, putting off his own needs to ensure that the girl is happy. This includes squandering a mind-blowing amount of cash to swamp the girl with material things, offering to complete her 6-month project, skipping his dinner to fix her choked toiletbowl so that she can go out on her hot date, etc. Her wish is the guy's mission in life, and he will never learn to say no to her. The girl, of course, will be appreciative, but more often than not she doesn't automatically fall at the guy's feet in undisguised adoration (which, of course, is exactly what the guy is hoping for). There can be 3 outcomes, actually.

1) The girl notices that the nice guy is very sweet and starts noticing him. She shyly offers herself to him and they get married in a meadow with scattered flower petals everywhere and little birds and rabbits scampering about. They eventually have two perfect blond-haired, blue-eyed children, and they will adopt Bambi as a pet.

2) The girl notices that the nice guy is very sweet and labels him as 'reliable friend'. She will now not risk anything to lose this gem as someone who will go out his way to help her.

3) The girl notices that the nice guy is very sweet and starts to suspect that he likes her. When her suspicions are confirmed, she tries to let the nice guy down politely because she doesn't want to hurt such a nice guy. She makes up all sorts of excuses, including having a boyfriend, having not gotten over an ex-boyfriend, having feelings for someone else, needing to concentrate on her studies/career, being a lesbian, etc.
Well, life's not Disney World right, so the only two reasonable outcomes are outcome 2 &3 (you only get outcome 1 if you're Brad Pitt or something, and you wouldn't be reading this if you were). However it goes, the harder the guy tries to woo the girl by being a 'nice' guy, the more she either:

1. Doesn't want risk losing him as her reliable friend therefore dismissing all his 'nice' behavior as part of who he is - a 'nice' guy. Therefore, all his effort in wooing the girl is nullified as he gives her even more reason to keep him as just another nice guy she knows. Mission failed.

2. He ends up looking like a psycho stalker and she gets a restraining order on him. Not good either. Fail.


See, being a nice guy does not only
NOT
help make a girl attracted towards you, but overdoing it can cause pretty serious consequences! So I don't get it when guys keep doing this (or more likely, OVERDOING this!)!
So if being the 'nice' guy is not the right thing to do, what is? You just got to turn on the attraction, or end up with the dreaded "lets just be friends". You don't want to get there, trust me.
So if you want to find out more about
What Women Want
, stay tuned for the next installment of this series next Friday! I'm gonna keep writing about what women want for as long as I can and I really hope that you guys out there found this useful.
Till then, stop being the 'nice' guy, be the
attractive
guy.
Hamlet's Hero signing off.
Edit: Something just happened to me that's so amazing but it really makes me wonder if I really understand women. Guess they never stop amazing me. Thanks for restoring my faith in women, dear.

Edit again: WHOOPS! Junyi! :D